LA-SiGMA and LA-EPSCoR hold Annual Symposium, July 23, 2012
The Louisiana EPSCoR office and the LA-SiGMA leadership held the Annual NSF EPSCoR Research Infrastructure Improvement (RII) Award Symposium on July 23, 2012 in Baton Rouge, LA. Project Director Dr. Michael Khonsari led the meeting, and LA-SiGMA faculty members, staff, postdocs, graduate students, and undergraduate students from all seven LA-SiGMA schools participated in the meeting.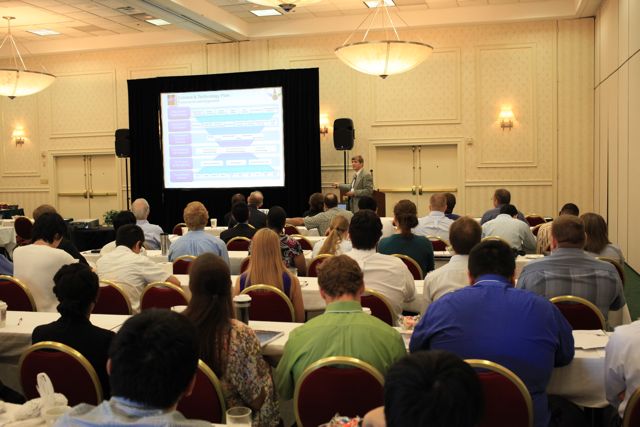 Members of the project's External Review Board, Diversity Advisory Council, and the External Evaluation team participated in the meeting as well. Postdocs and students competed in a poster session; Participants in the REU and RET programs competed in a separate poster contest.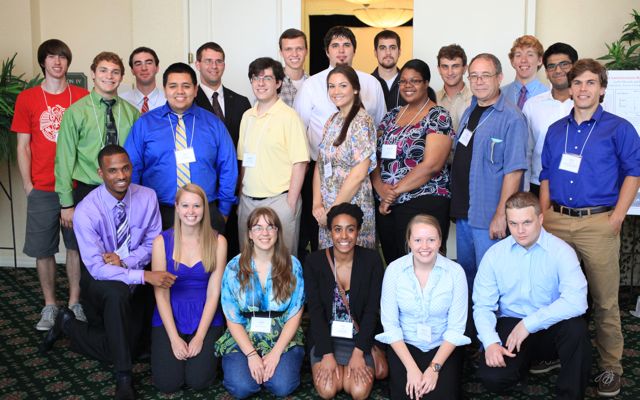 Pictured above are the Research Experiences for Undergraduates (REU) and several Research Experiences for Teachers (RET) Participants.
2012 Symposium Photos
Symposium Documents
Meeting Agenda
(PDF)
Project Overview
M. Khonsari
(PDF)
Science Driver 1: Correlated Electronic and Magnetic Materials
D. Bagayoko and J. Perdew
(PDF)
Science Driver 2: Energy Materials
L. Pratt and D. Mainardi
(PDF)
Science Driver 3: Biomolecular Materials
H. Ashbaugh and D. Nikitopoulos
(PDF)
CTCI: Computational Tools for Multiscale Simulations
T. Bishop, Yun, and M. Jarrell
(PDF)
Diversity and Workforce Development
J. Moreno and R. Hall
(PDF)
External Engagement and Sustainability
N. Pesika and J. Domingue
(PDF)
(PDF)
Industry
S. Whittenburg and R. Cruthirds
(PDF)
EPSCoR Award Recipients-
C. Montes
L. Schrader
M. Merchant
(PDF)
(PDF)
(PDF)
Data Management Plan
J. Tohline and L. Pratt
(PDF)
Graduate Student Retreat
C. Ekuma
(PDF)
FIRST Training Program
C. Sisson
(PDF)
Evaluation and Assessment
C. Dunn
(PDF)