REHSS Student Recognized at 6th Annual Undergraduate Research Conference
While it was a day for undergraduate students to network and show off their research, it was a high school student who stole the spotlight at the LSU Undergraduate Research Conference held October 31. Rhiannan Berry, a 2014 participant in the Research Experience for High School Students (REHSS) at LSU, received 2nd place in the poster contest. "Oculus Rift: The Future of Scientific Visualization," won 2nd place in the Level 1: Technology and Engineering division of the poster presentations.
Rhiannan spent her summer working with Dr. Mark Aubanel on 2D and 3D gaming in the Center for Computation and Technology. Her work with the Oculus Rift Virtual Reality Headset built on that summer work.
Originally from Livingston Parish, Rhiannan is currently a senior at the Louisiana School for Math, Science, and the Arts (LSMSA). She, along with 11 other LSMSA students, participated in the Halloween Day Conference. They were accompanied by their teacher, Brad Burkman, who is a multi-year participant in the LA-SiGMA Research Experience for Teachers (RET) Program at LSU.
This year's theme for the Undergraduate Conference was "Excite/Explore/Experiment." The Conference was designed to allow undergraduate students the opportunity to present their research, interact with faculty, and develop collaboration with peers. In addition to the poster presentations, participants enjoyed listening to keynote speaker Dr. Winston Anderson, HHMI Professor at Howard University, as well as a panal discussion to "Explore the Science of Zombies."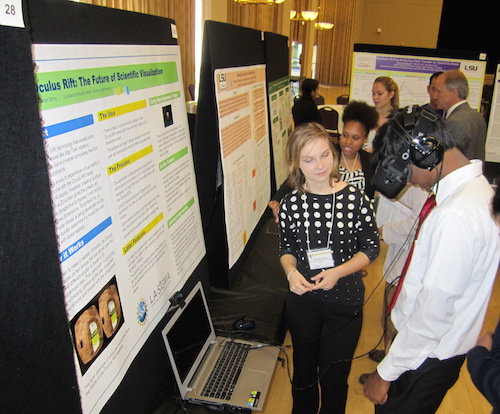 Rhiannan Berry demonstrates the Oculus Rift at the LSU Undergraduate Research Conference held on October 31